Meet the Cheeses
Brie
Zee melty one from France
Brie is tough yet velvety on the outside – and smooth and gooey on the inside. He loves that he's known as 'The Queen of Cheeses' but hates that he's so short! The moment he lays eyes on Branston, he shrinks beneath the cheesy crowds and melts into puddle of deliciousness.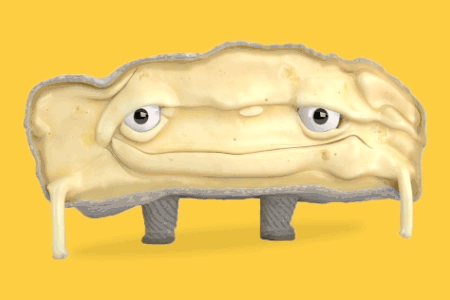 Smell-o-meter
Brie has a slightly tangy aroma that gets stronger with age.
Texture
He can be quite firm when he's cold. But as soon as he warms up (or gets anywhere near a spoonful of Branston), he almost turns into liquid!
My Favourite Branston
Brie and Branston Smooth Squeezy Pickle are kindred spirits – both deliciously smooth and runny. That's why Brie loves nothing better than being spread eagle on a crusty baguette and doused in the stuff.
What grates me
When people don't eat his moldy white rind!