Meet the Cheeses
Cheddar
Our hapless West Country hero
This tasty rectangular fella might have hard edges but he couldn't be nicer. He was born and matured in Somerset – and is now the NATION'S FAVOURITE. "Ooh-arr" to that! One of the things that makes him so adorable is that he never lets the attention go to his head. Only Branston has the power to send him crackers.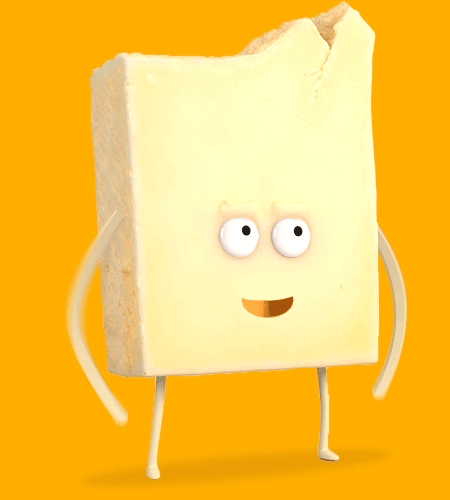 Smell-o-meter
Cheddar hasn't got much of a smell, so he's very easy on the nose. Over time, though, he's destined to get a bit pongier.
Texture
Cheddar is hard and smooth, but he's going to get a bit more crumbly as he matures (don't tell him, though).
My Favourite Branston
Cheddar loves nothing more than smothering himself – head to toe – in Branston's Small Chunk Pickle. It's quite a sight watching him roll around in the chunks shouting, "Pickle me!"
What grates me
Jealousy. He hates that the other cheeses tease him about being the favourite. It's not his fault he's so great!