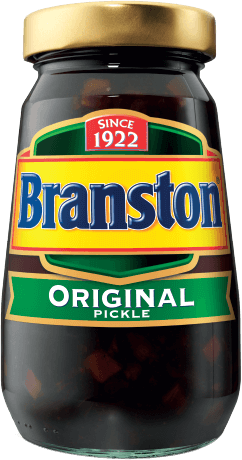 Discover our range of delicious Branston products, including pickles, squeezy pickles, flavoured pickles, relishes, chutneys, sauces, baked beans and more – the perfect accompaniment for any dish!
Pickle
Discover the nation's favourite pickle! The perfect accompaniment to any family favourite dish or a staple sandwich. Simply add a few spoonfuls of Branston Pickle to give your food a tasty tang.
Squeezy Pickle
No need for pickle spoons here! The same zingy taste, just in easy squeezy bottles. Branston's squeezy pickles are currently available in small chunk or smooth.
Chutney
Tantalise your taste buds with our Branston caramelised onion, Mediterranean tomato, Dorset ale, and apple or orchard fruit chutney and see what Branston chutneys can do to your dish.
Relish
No top-class burger or hot dog is complete without all the toppings and a tasty relish! Find your favourite between our tomato and red pepper and caramelised red onion chutney flavours.
Sauce
Whether it's upgrading a simple sandwich or finishing off a fry-up, improve your mealtimes with our delicious Branston Rich and Fruity sauce.
Baked Beans
In a full English or on top of a piece of toast, our Branston baked beans are a breakfast classic! Explore our wide range of beans, including baked beans with sausage and chorizo options.