Beer Braised Brisket with Coleslaw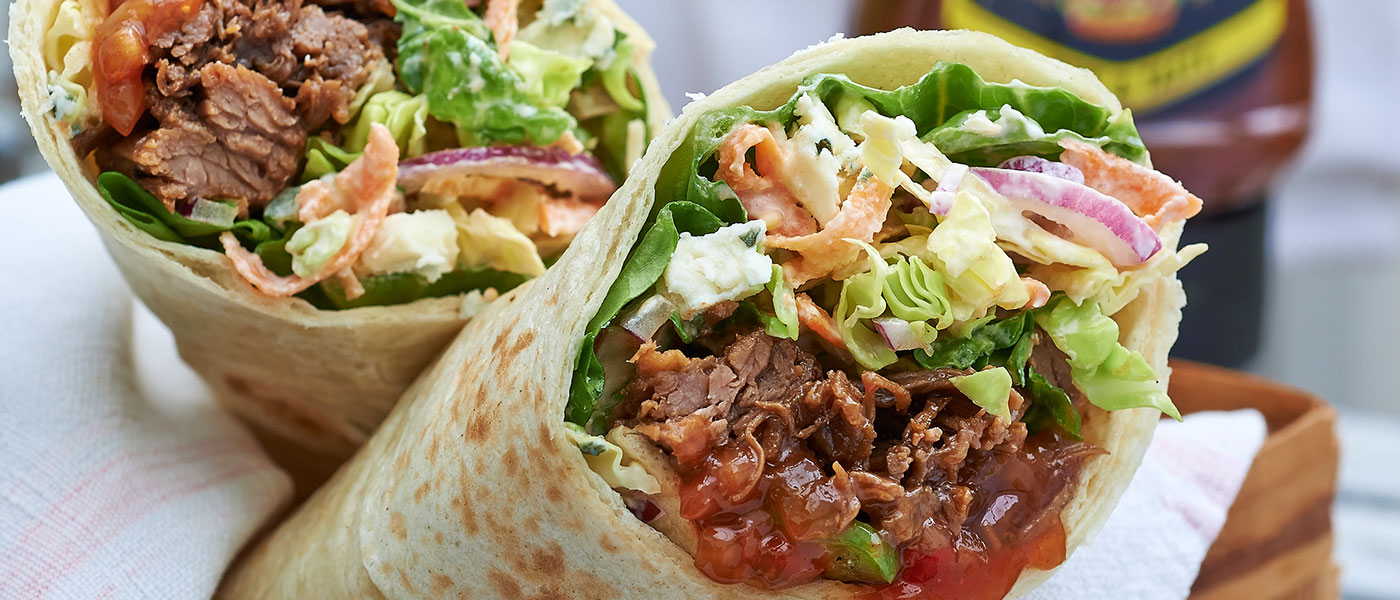 Get your recipes singing and your tummy rumbling with a nice big dollop or squeeze of Branston.
Ingredients
500g beef brisket
1 bottle of dark beer
1tbsp honey
1 head of garlic, cut in half
100g Danish Blue cheese, crumbled
150ml buttermilk
1tbsp cider vinegar
1tsp garlic powder
Black pepper
1/2 head of savoy cabbage, core taken out & thinly sliced
1/2 red onion, thinly sliced
1 med carrot, peeled & grated
4 x large flour tortillas
8 x baby gem lettuce leaves, washed
Branston Rich & Fruity Sauce
2 sliced medium fresh jalapeños or green chillis
Method
In a small saucepan, small enough for the beef to be covered in juices, marinade the beef overnight in the beer, honey and garlic.
The next day, preheat the oven to 120C/Gas 1/4. Cover the saucepan with beef and place in oven. Braise for around 3-4 hours until cooked and very tender.
Carefully transfer the beef to a bowl, strain the cooking liquor to a pan and reduce to a glaze. With 2 forks pull the brisket apart and pour in the glaze and fold in. Test for seasoning.
In a large bowl mix the cheese, buttermilk, vinegar, garlic powder and pepper until smooth. Add the cabbage, carrot and red onion and stir to combine.
To serve, gently warm each tortilla in a large skillet. Into each tortilla lay in 2 leaves baby gem lettuce; spoon in the slaw and then top with brisket. Drizzle over the Rich & Fruity Sauce; sprinkle with sliced jalapenos. Fold in the bottom, then fold in the sides, wrap in foil and serve warm.