Beetroot Pickle
& Chicken Tacos
Pulled Chicken Tacos with Beetroot Pickle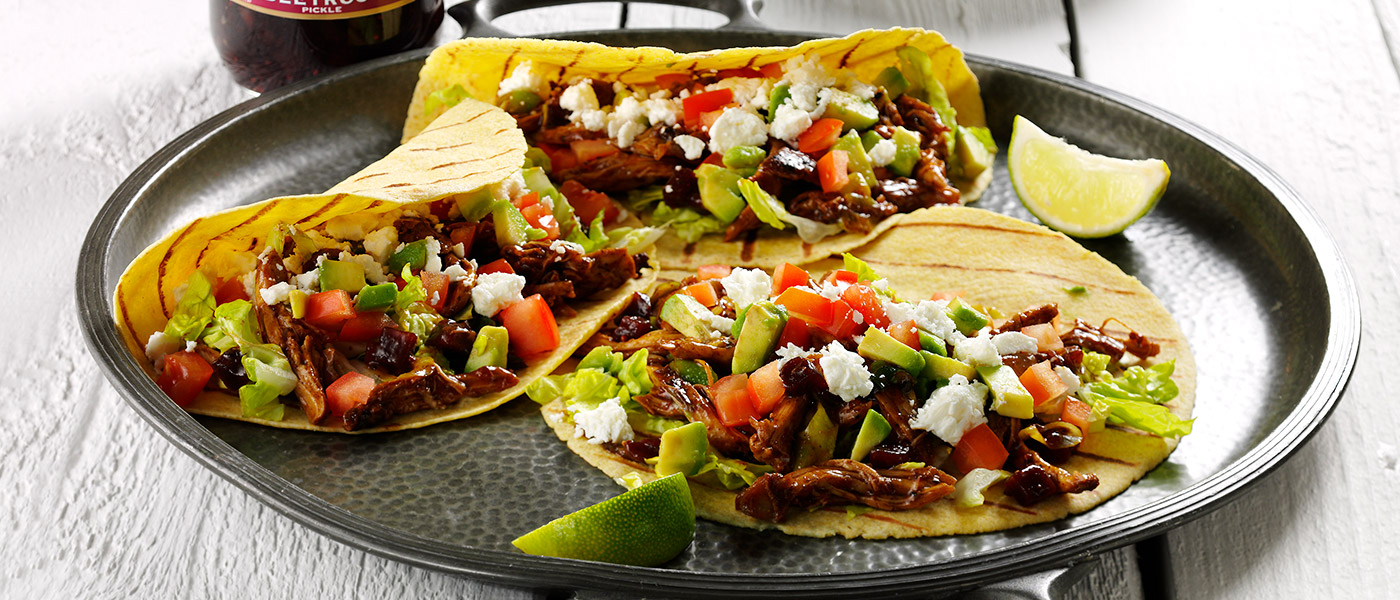 Get your recipes singing and your tummy rumbling with a nice big dollop or squeeze of Branston.
Ingredients
For the chicken
400g skinless, boneless chicken thigh fillets
1 tbsp jerk seasoning
1 tbsp sunflower oil
6 spring onions, thinly sliced
6 tbsp Branston Beetroot Pickle
Additional
8 small corn tortilla wraps
2 baby gem lettuce, shredded
1 large avocado, diced and tossed with a squeeze of lime juice
3 tomatoes, diced
150g feta cheese, crumbled
Lime wedges, to serve
Method
Rub the chicken with the spice mix and set aside for 10 minutes.
Heat oil over a high heat in a medium frying pan and add the chicken. Cook for 2-3 minutes per side until browned.
Reduce the heat to low. Add 1tbsp of water, cover tightly with a lid and cook for 25 minutes until very tender, turning once.
Remove the lid and pull the chicken into shreds with two forks and then return it to the pan with the spring onions and Branston Beetroot Pickle. Heat for 2-3 minutes until the onions have wilted.
Warm the tortilla wraps in a pan, or according to pack instructions.
To serve, spoon some lettuce onto each tortilla, top with the chicken, then sprinkle with tomato, avocado and finally some feta cheese. Squeeze over a little lime, fold and enjoy.