Branston Turkey Club Sandwich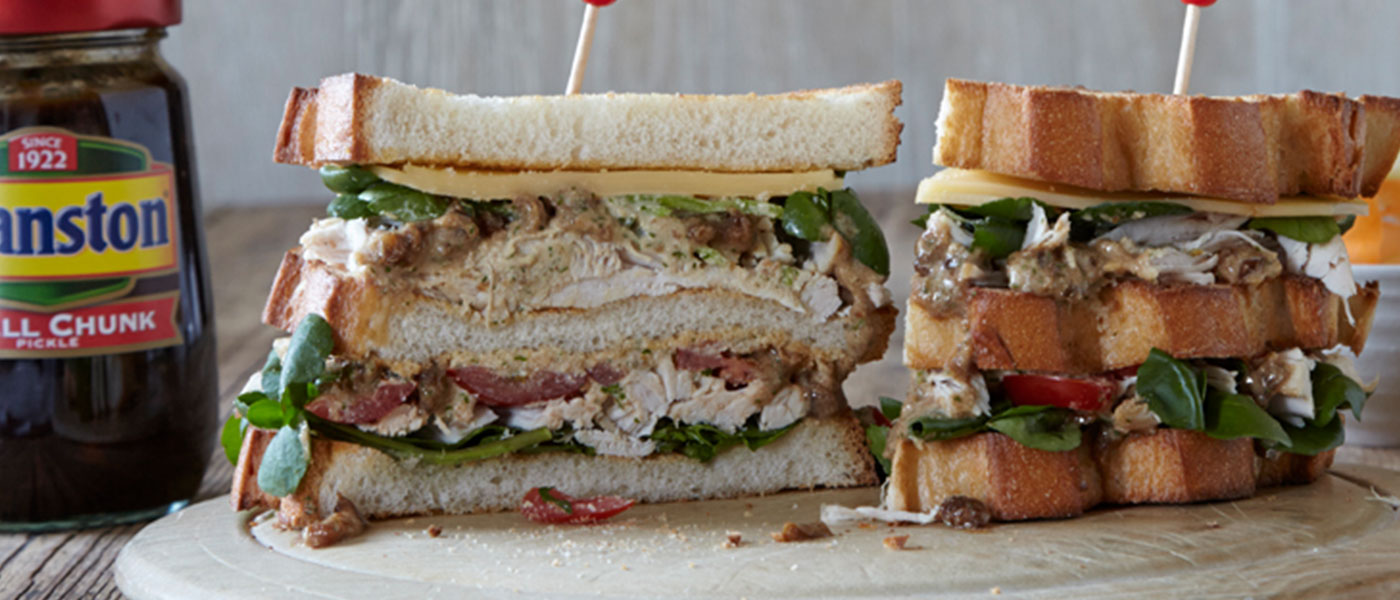 Boxing Day wouldn't be the same without a bit of pickle, so liven up your traditional turkey sandwich with the Branston club treatment.
Ingredients
4 eggs
8 tbsp Branston Small Chunk Pickle
Juice of ½ lemon
4 tbsp good-quality mayonnaise (see tip to make your own)
7g fresh dill, finely chopped
12 slices of crusty bread
3 tbsp olive oil
200g watercress
400g leftover roast turkey, shredded
100g baby plum tomatoes, sliced
4 slices of Swiss cheese
Sliced carrots and celery, to serve
You will also need
8 cocktail sticks (optional)
Method
In a pan of boiling water, hard boil the eggs for 8 mins, then refresh in cold water and peel. Chop the eggs into rough cubes.
To make the sauce, mix together the Branston Small Chunk Pickle, egg, lemon juice, mayonnaise and dill in a bowl. If you are using the original Branston Pickle, whizz it up in a liquidizer for 30 seconds before mixing it with the other ingredients. Season with pepper.
Preheat the grill and toast each slice of bread on both sides. Drizzle one side of the toast with the oil and divide half of the watercress between four sides and top with half of the turkey and the tomatoes. Drizzle with a spoonful of the sauce and then top each with another slice of bread, oil-side down. Divide the remaining turkey mixture onto the bread and top with the remaining sauce and watercress and the cheese slices.
Top each sandwich with another slice of bread, oil side down, then insert two cocktail sticks into the sandwich either side to hold it together. Slice each in half and serve with sliced carrot and celery sticks.
Tip
Make your own mayo by whisking 2 egg yolks in a large bowl or jug until frothy with an hand held electric whisk, and then very slowly adding 100ml sunflower or vegetable oil whilst still whisking. Mix in 1 tsp lemon juice and 1 tsp white wine vinegar and season. Chill until needed.