Kidney Bean & Tomato
Quesadillas
Easy Kidney Bean, Tomato and Pepper Quesadillas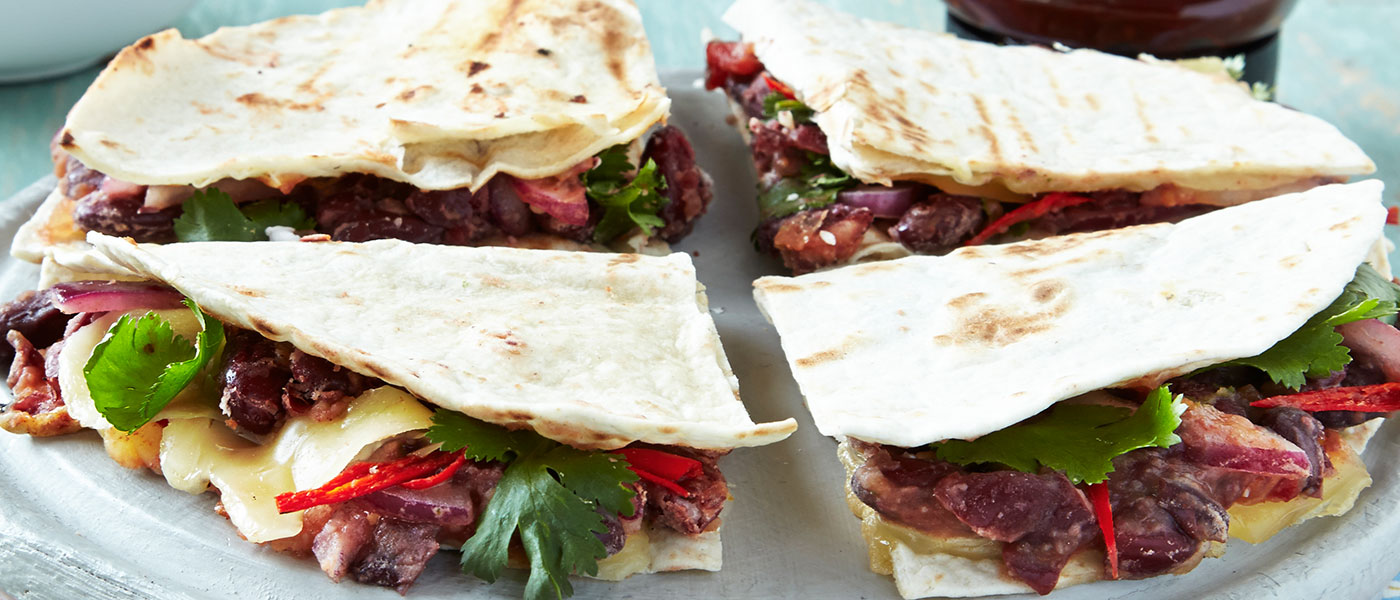 Get your recipes singing and your tummy rumbling with a nice big dollop or squeeze of Branston.
Ingredients
2 x 400g tinned kidney beans, drained and rinsed
15g fresh coriander, chopped, plus extra to serve
Zest and juice of 2 limes, plus wedges to serve
3 tbsp Branston Tomato & Red Pepper Relish
1 red onion, thinly sliced
1 red chilli, deseeded, sliced (optional)
8 mini tortilla wraps
200g Pilgrims Choice cheddar cheese, sliced
Ground black pepper
Method
Preheat griddle or grill. Place the kidney beans in a large bowl and crush lightly with the back of a fork. Add the coriander, lime zest and juice, Branston Tomato & Red Pepper Relish, onion and chilli (if using), and thoroughly combine. Season with black pepper.
Grill 1 mini wrap on the griddle or in a frying pan, and then turn over after 1 min. Set aside. Repeat with another wrap and then layer the wrap with a quarter of the cheese, then add around four dessertspoons of the mixture, spreading it nearly to the sides of the wrap. Top with the previously grilled wrap, then cook for 1-2 mins, until heated through and the cheese has melted.
Keep warm in a low oven, and then repeat with the remaining six wraps and ingredients. Serve with more coriander and lime wedges to squeeze.