Grilled Cheese & Mushroom Burger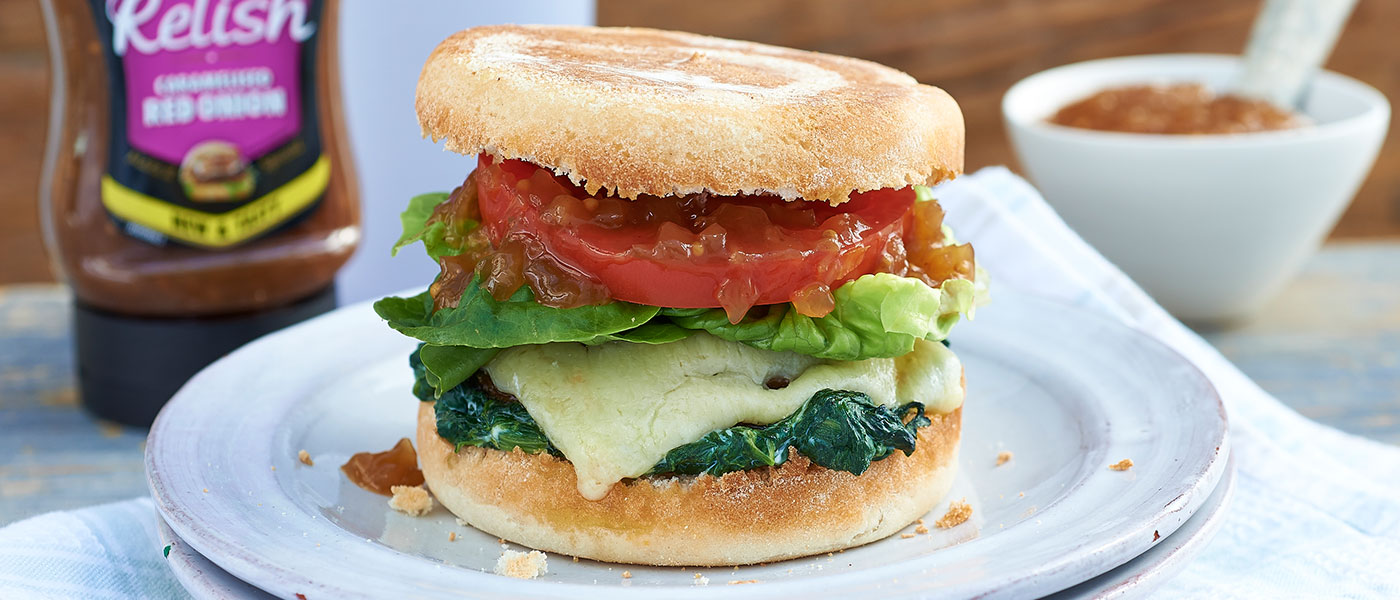 Get your recipes singing and your tummy rumbling with a nice big dollop or squeeze of Branston.
Ingredients
1 Portobello mushroom (roughly the size of the muffin), peeled
Olive oil for baking
Salt & Pepper
large handful baby spinach
1tsp Parmesan cheese
1tsp cream cheese
Pinch of nutmeg
1 x large English Muffin (white or wholemeal)
1 x slice gorgonzola cheese or Cheddar (to your liking)
2 x Baby gem lettuce leaves (washed & dried)
1 x slice of Beef Tomato
Branston Caramelised Red Onion Relish
Method
Preheat an oven 180C/Gas 4. Drizzle the Mushroom with olive oil and season with salt & pepper. Bake on an oven tray for 15 minutes.
In a small sauce pan on a medium heat, wilt the spinach, allow to cool a little and squeeze away any water, return to the pan. Add the Parmesan, cream cheese and season with salt, pepper and nutmeg.
With a fork prick the muffin in half and place onto a baking tray. On to one of the muffin halves, spoon on the creamed spinach, then add the mushroom (bottom side up), then the cheese slice.
Place the tray into the oven and bake until cheese has melted and the other half toasted (about 5mins).
On top of the cheese side place the lettuce leaves and then the tomato.
Spread the Caramelised Red Onion Relish on the remaining muffin half and close together. Serve warm.