Halloumi
Cheese & Pickle
Skewers
Halloumi Cheese and Pickle Skewers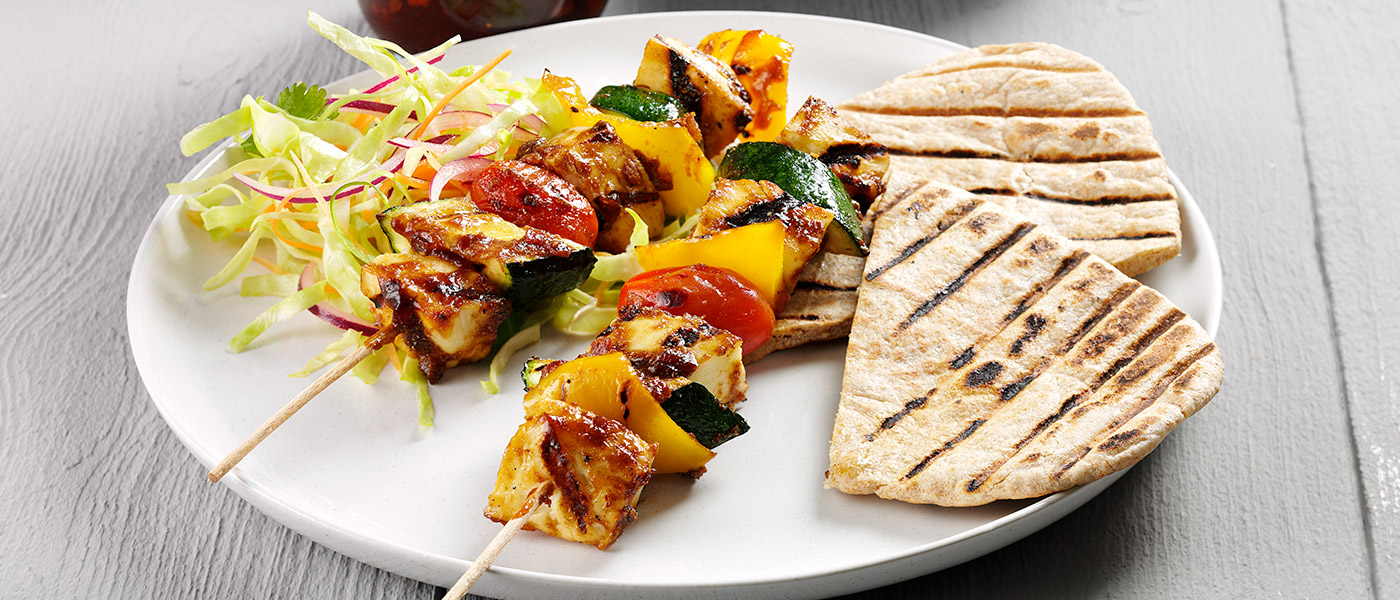 Get your recipes singing and your tummy rumbling with a nice big dollop or squeeze of Branston.
Ingredients
For the skewers
250g halloumi, cut into 2.5cm chunks
1 large yellow pepper, cut into 3cm chunks
Approximately 16 baby plum or cherry tomatoes
1 courgette, halved lengthways and cut into 3cm chunks
4 tbsp Branston Small Chunk Pickle
Zest of 1 lemon plus juice of ½
1 tsp ground coriander
For the slaw
2 tbsp extra virgin olive oil
Juice ½ lemon
1 tsp honey
1 large carrot, shredded or grated
1 small red onion, thinly sliced
250g green cabbage, shredded
2 tbsp coriander leaves
Additional
Large pitta or wraps, warmed, to serve
Wooden skewers
Method
Soak the wooden skewers for at least 30 minutes to ensure they don't burn. Thread the halloumi, pepper, tomatoes, and courgette onto the skewers (twist the skewers as you thread the chunks on to help prevent splitting).
Mix the 4tbsp of Branston Small Chunk Pickle with the lemon zest, juice and coriander.
Heat a large griddle pan, grill or barbecue to medium-high. Add the skewers and cook for about 5 minutes, turning occasionally.
Brush over the Branston glaze and return to the pan for 2 minutes until hot and sticky.
Meanwhile for the slaw, whisk the oil, lemon juice, and honey in a large bowl. Add the carrot, cabbage, coriander, and onion and toss to coat. Serve with the skewers and pitta.