Slow Cooked Branston
Jerk Chicken
Slow Cooked Branston Jerk Chicken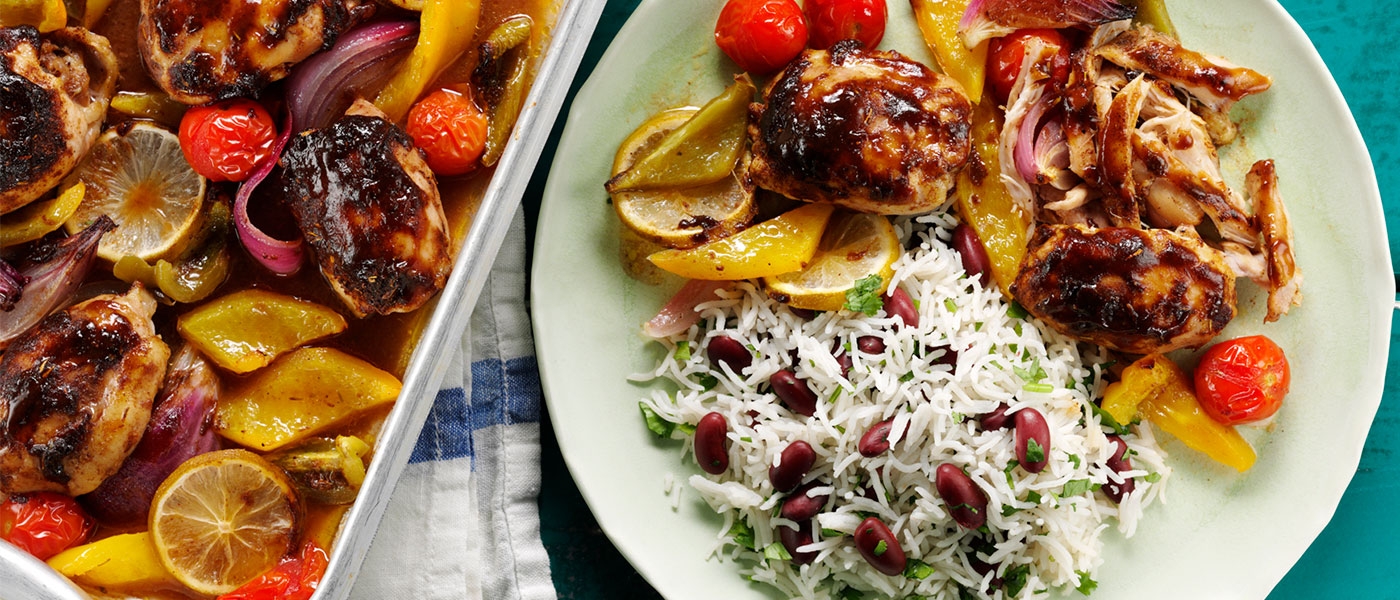 Get your recipes singing and your tummy rumbling with a nice big dollop or squeeze of Branston.
Ingredients
For the chicken
8 skinless boneless chicken thighs
2 medium red onions, cut into wedges
2 peppers, cut into wedges
1½tbsp jerk spice mix
3tbsp Branston Smooth Pickle
1 lime, sliced, plus wedges to serve
200g cherry tomatoes
For the rice and beans
200g long grain rice
300ml water
A large bunch of fresh coriander, chopped
100ml coconut milk
200g kidney beans
1 garlic clove, chopped
1tsp ginger, grated
½tsp thyme
½tsp unsalted butter
½ onion diced
½tsp black pepper
Method
Method for the chicken
Heat the oven to Mark 4/180C. In a bowl, mix the chicken with the jerk spice mix.
Scatter the onions and peppers in a large baking dish and then tuck the chicken amongst the vegetables. Bake for 45 minutes, giving the dish a little shake halfway through cooking.
Brush Branston Smooth Pickle over the chicken and add the tomatoes to the dish. Cook for a further 15 minutes to glaze.
Method for the rice and beans
While the chicken is cooking, heat the butter in a saucepan for the rice. Add the onion, garlic and ginger and sauté for 5 minutes.
Add the rice, water and coconut milk and bring the mixture to boil, reduce the heat and simmer, cover for 8 minutes.
Add the kidney beans and cook for another 5 minutes.
Add the thyme, coriander and black pepper and cook for another 3-5 minutes or until the liquid is absorbed.
Serve with the chicken and extra lime wedges.