Cheese & Pickle Pizza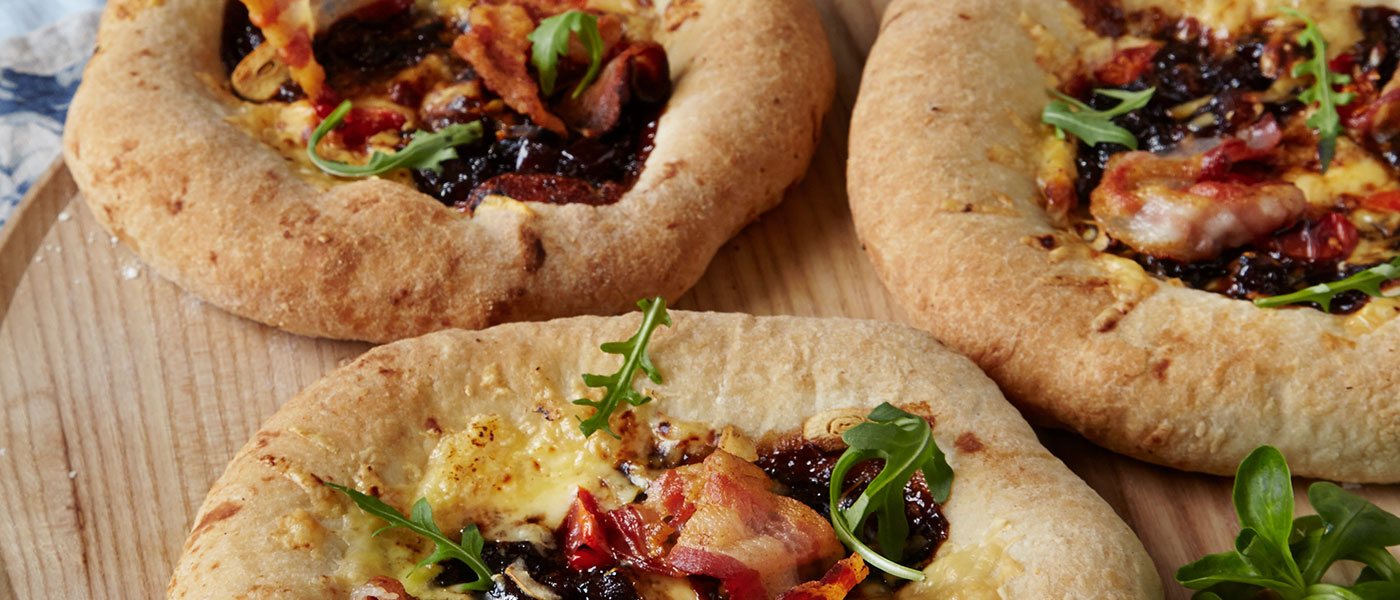 Get your recipes singing and your tummy rumbling with a nice big dollop or squeeze of Branston.
Ingredients
500g strong flour
Pinch of sea salt
7g fast action yeast
250ml warm water
1 tbsp extra virgin olive oil
350g Pilgrims Choice Lighter Mature, crumbled or grated, cheese
5 tbsp Branston Original Pickle
2 garlic cloves, thinly sliced
60g smoked pancetta slices
100g cherry tomatoes, quartered
70g rocket
Ground black pepper
Method
In a large bowl, place the flour and make a well in the middle of it with your fist. Add the salt and yeast to the well and then add half of the warm water and all of the oil. Stir together with a spatula, in a circle of eight motion, bringing the dough together and adding the remaining water gradually to make a dry dough ball. You may not need all of the water.
Knead the ball of dough, by folding it into itself with one hand, continuously, for 10 mins. Leave in the bowl and cover with oiled cling film, then stand in a warm place for 1 hour.
After 1 hour the dough should be twice its size. Knock the air out of the dough by punching it with your fist, then place on a floured work surface. Roll out into a large circle to just over fit your pizza tray by about 5cm or cut in half and roll out smaller pizzas to fit a baking tray, again making them slightly bigger than the tray.
Preheat the oven to 200C/gas 6. Around the edge or edges of the pizza, sprinkle around 100g of the cheese and then drizzle 1 tbsp Branston Pickle over it. Pull the dough over the cheese and pickle, folding over and then pinch in to seal and form the crust. Turn over.
Spread the remaining Branston Pickle on the base of the pizza or pizzas and top with the remaining cheese, the garlic, pancetta and tomatoes. Bake for 25-30 mins, until golden. Top with rocket and serve.