Cheese & Pickle Quiche with Ham Hock & Cherry Tomatoes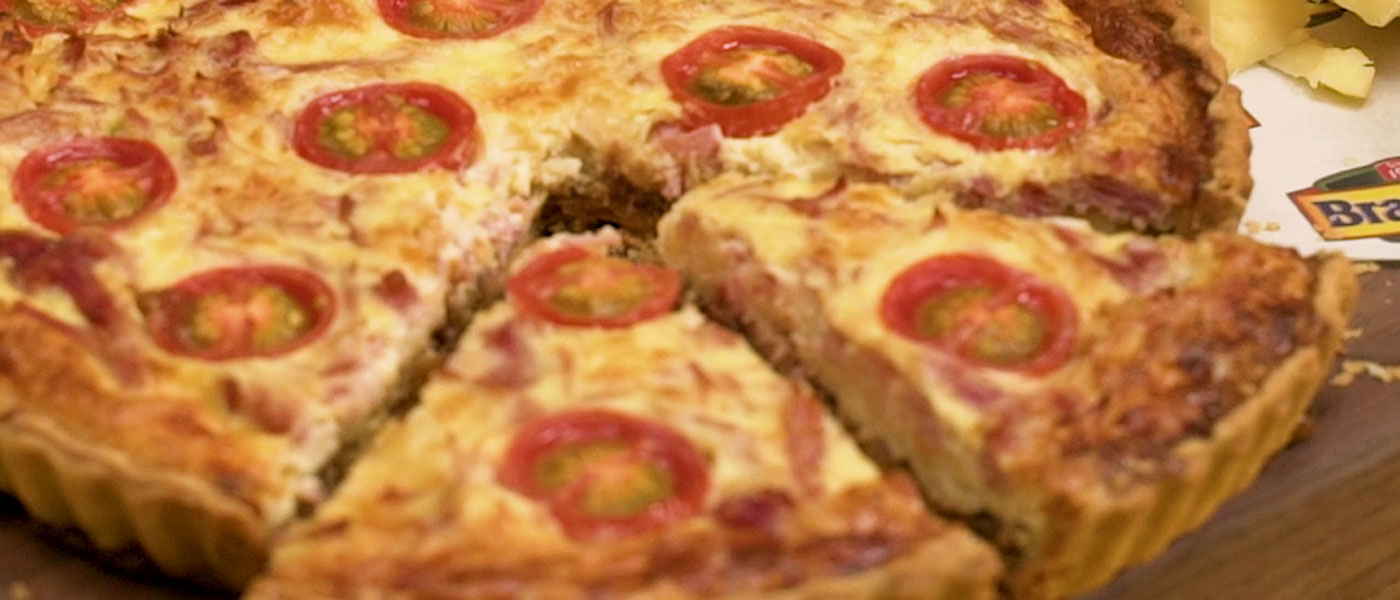 Get your recipes singing and your tummy rumbling with a nice big dollop or squeeze of Branston.
Ingredients
500g block of shortcrust pastry, to fill a 10" tart tin
Baking beads or dried beans for blind baking
3-4tbsp Branston small chunk pickle
4 eggs, whisked
125ml full fat milk
A crack of black pepper
75g cheddar, grated
50g parmesan, grated
70g shredded ham hock
6 cherry tomatoes, halved
Method
Preheat a fan oven to 200c, lightly flour a surface and roll out the shortcrust pastry into a square, wide enough to fill your tart tin.
Line your tin with the shortcrust and push the rolling pin across the top of the tin to cut through the excess pastry, leaving the sides neat and even. Use a fork to prick the pastry base all over to stop your pastry from rising in the oven.
Scrunch up a piece of baking parchment and use this to line the inside of the pastry case. Pour in enough baking beads or dried beans to fill the entire case. Put the tin in the oven and bake for 20 minutes, after which remove the parchment and the baking beans and bake for a further 10 minutes.
Meanwhile, whisk up your eggs with the milk and pepper.
Once the pastry is cooked, remove from the oven and allow to cool in its tin on a wire rack. Lower the oven temperature to 180c.
Once cool, use the back of a spoon to smooth the small chunk Branston pickle across the entire pastry base. Sprinkle the grated cheddar and parmesan over the top, then pour in your egg mixture and top with the shredded ham hock and your halved tomatoes.
Bake for a further 30 minutes. The baked quiche should have a slight wobble in the centre when gently shaken.
Watch our simple video recipe below