Cheese & Smooth Pickle
Doughnuts
Cheese and Smooth Pickle doughnuts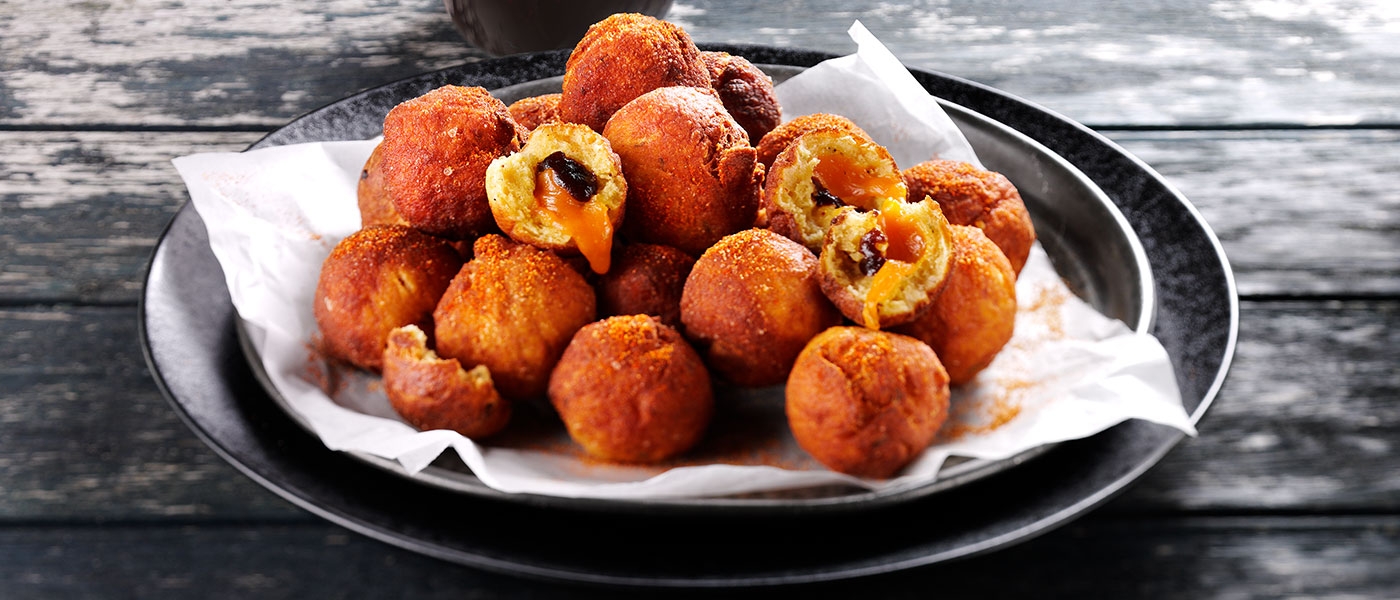 Get your recipes singing and your tummy rumbling with a nice big dollop or squeeze of Branston.
Ingredients
300g plain flour, plus extra for rolling
2tbsp sunflower or vegetable oil, plus approximately 1 litre for frying
½ tsp caster sugar
7g sachet easy bake yeast
60g parmesan, finely grated
40g Red Leicester, coarsely grated, plus 60g cut into 1cm cubes
1tbsp chopped chives
2tsp English mustard powder
1½ tsp garlic salt
Good pinch cayenne or chilli powder
2 medium eggs
100ml warm milk
6tbsp Branston Smooth Pickle
1tsp mild paprika
Method
Place the flour, 2 tbsp oil, sugar, yeast, parmesan, grated Red Leicester, chives, mustard powder, ½ tsp garlic salt and cayenne in a food mixer. Add the eggs, oil and milk, and mix with a dough hook on a low speed for about 8-10 minutes until the dough is soft, smooth and elastic. If you do not have a dough hook, knead the mixture by hand.
Place the dough into an oiled bowl, cover with clingfilm and leave in a warm place for an hour until doubled in size.
Line a large tray with clingfilm and brush with oil.
Turn the risen dough out onto a lightly floured surface and shape into a square. Cut into four even portions and then cut each of these portions into 8, so you have 32 doughnuts.
For each doughnut, shake off the excess flour, then press a cube of cheese into the dough, wrapping the remaining dough around. Roll the dough in your hands until a smooth ball forms and place onto the tray, spacing the doughnuts about 3cm apart.
Cover with a sheet of oiled clingfilm and leave in a warm place for 45 minutes to an hour, until they have almost doubled in size once again.
Heat the oil over a medium-high heat in a deep sided pan (you need at least 5cm depth). To test whether the oil is at the right temperature, place a wooden spoon into the pan and if the oil begins to bubble around the spoon, it's ready. If the oil bubbles vigorously or starts to smoke, the oil is too hot.
Lower a doughnut into the oil and turn it often, to ensure it cooks evenly – it should cook in approximately 2-3 minutes. Remove the doughnut and place it onto a plate lined with kitchen towel. From here on, cook the doughnuts in small batches of 5-6 balls until all of them are cooked.
Leave to cool for a few minutes, then using a metal skewer, poke a hole into the middle of each.
Spoon the Branston Smooth Pickle into a small piping bag, snip a 3-4mm piece off the tip and then pipe a little Branston into each doughnut.
Mix the remaining garlic salt with paprika and sprinkle over the doughnuts. Serve.